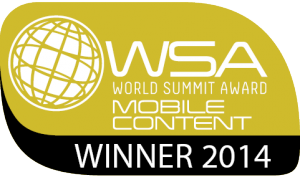 We are proud to tell you that United Nations has awarded Splyce with the World Summit Award as best music app worldwide. We will be presenting at the WSA-mobile 2014 Gala that will take place in Abu-Dhabi in February 1-3, 2015.
After 3 months of votings, Inqbarna's Splyce app has been selected as a winner in the entertainment category between over 400 apps from all countries around the world. A global Jury of 60 experts from nearly 50 countries has selected our music app as a global winner of the WSA-mobile 2014.
World Summit Award was launched as part of the United Nations Summit on the Information Society in 2003 and is the unique global competition for recognizing the best in m-Content and Creativity.
More than 450 submissions from all UN member states were nominated this year and the experts jury selected the 5 winners in each category
Great news for Inqbarna & Splyce with this award at the United Nations World Summit Awards that will take place during the first week of February in Abu Dhabi next year. We have been working very hard on our music apps and here is the prize for all that hard working.
Stay tuned on Splyce's Social Channels for news on the new version and get fresh music recommendations:
Facebook: www.facebook.com/SplyceApp
Twitter: @splyceapp